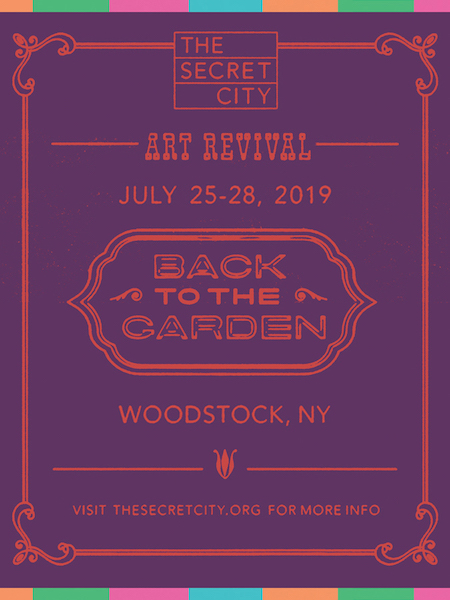 The Secret City Art Revival invites locals and visitors 
to share in the special creative spirit and the extraordinary cultural legacy of Woodstock, New York.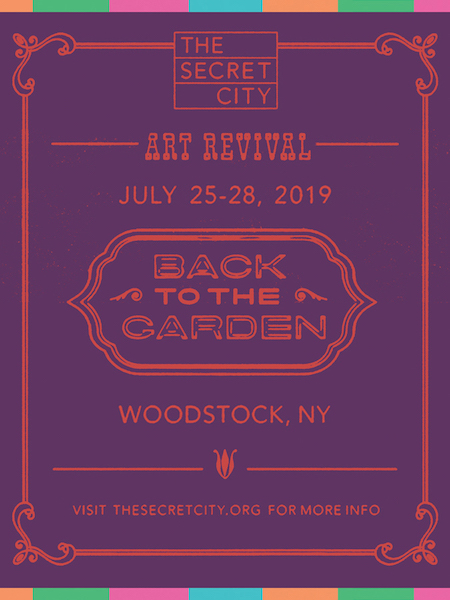 From Thursday July 25th, 2019 to Sunday, July 28th, 2019 join us for a weekend festival of site-specific performance, installation, community gathering, processional and artistic tent revival.
This year's theme is Back to the Garden, inspired by the 50th anniversary of the Woodstock Festival.
Thursday July 25th
6:30 p.m. – Join us for the Kickoff Party at Brydcliffe Barn. There will be light refreshments, a cash bar, and donations are encouraged to help kick-off the Revival weekend. Founder Chris Wells will give a welcome, introduce guest artists, and a performance by The Secret City Band is to follow. Puppeteer and Secret City board member, Lynn Jeffries, will also be leading a hat making event in anticipation of our community processional on Sunday.
Friday July 26th
5:30 p.m. to 7:30 p.m.- Artists and Woodstock residents welcome you into their homes with a series of house shows, from jazz concerts, poetry readings, and much more.
 ~Artists & Locations to Come~
8:00 p.m. –  Join us at Reynolds & Reynolds Taproom Bar for a reunion performance by the Penguin Cafe Orchestra, featuring original members of the band. Tickets are $15/ person and available at the door.
Saturday July 27th
10:00 a.m. – 12:00 p.m.- Please purchase tickets to our brunch and pool party that will take place at a private home. Tickets can be purchased here, for $35/$50/ or $100 each, all proceeds will go directly to support The Secret City's mission. Enjoy with us in a breakfast buffet, swimming, and mixing with The Secret City board.
12:00 p.m. – 5:30 p.m.- Explore Woodstock with site specific performances all around town, in art, music, dance, and community engagement. From the trails of Comeau Property to the Village Green, artists will present work throughout the day. A guided tour of these sites will be available.
~Artists & Locations to Come~
6:00 p.m.- Come to a town picnic at Andy Lee Field. Where Blue Mountain Bistro and Nancy's Ice Cream will be selling sandwiches and ice cream for us as we gather on the lawn. Entertainment will be provided by modern day troubadour, Andru Bemis.

8:00 p.m.- Sing your heart out at Live Band Karaoke with Brent Felker and Company at Colony in Woodstock. Tickets for this event can be purchased here.
Sunday July 28th
12:00 p.m.- Celebrate the culmination of the weekend in our community processional. Gather at the upper parking lot of Comeau Property where we will kickoff our processional.  We've partnered with a broad array of local art and community organizations—Woodstock School of Art, Catskill Interpretive Center, The Woodstock Library, Radio Kingston,Arts Mid-Hudson, Mt. Tremper Art, and more, to create the design elements for the processional. For the theme of Back to the Garden, we have hundreds of paper flowers, animal puppets, butterflies, banners and more. We will walk down hill and through town with a marching band, reinvigorating the artistic spirit of Woodstock and inviting all to join us for the Revival after.
2:00 p.m.- THE REVIVAL! Under a big tent at Andy Lee Field, up to 500 people will gather for our signature 'service.' Featuring dancing, The Secret City Band, our community choir, The Secret City Singers, as well as guest artists, storytelling, contemplation, revelry and more. Enjoy vegan cuisine from The Green Palate, Latin fare from The Latin Garden, and Nancy's Artisanal Ice Cream Truck. The Artistic Tent Revival is a celebration of the weekend and our season. Expect a high-octane, roof raising, ecstatic art experience. Entry is free, but there is a suggested donation of $20/ per person.
This project is made possible with funds from the Decentralization Program, a regrant program of the New York State Council on the Arts with the support of Governor Andrew M. Cuomo and the New York State Legislature and administered by Arts Mid-Hudson.
The Secret City is a registered 501c3 organization.