THE SECRET CITY ART REVIVAL
A town wide festival celebrating art,
community and the unique creative spirit of Woodstock.
July 25th-28th
WOODSTOCK, NY 
—BACK TO
THE GARDEN—
THURSDAY
KICK OFF PARTY
Thursday, July 25th
6:30-9:00 PM.
The Secret City Art Revival kicks off Thursday, July 25th as celebrants gather at the Byrdcliffe Barn to meet the performers, nosh on free food and listen/dance to the fabulous Secret City band. Chris Wells will give a welcome to the REVIVAL. Cash bar.
The kick off party is an excellent place to learn about all the events taking place around town, pick up a schedule for the weekend, meet the artists and hosts and find out more about their work. Brochures with map of the performance sites and schedule of the weekend will be available. We'll also have a paper hat making workshop led by puppeteer Lynn Jeffries, and a communal drawing activity led by artist Riley Johndonnell.
RSVP here!
FRIDAY
HOUSE EVENTS
Friday, July 26th
5:30- 7:30 P.M.
Artists and Woodstock residents welcome you into their homes for a series of diverse performances. All house events are scheduled to take place between 5:30-7:30 pm. However, some performances have a specific start time, please check below. Events are listed as either public or private. Private events are by invitation only. All house events are free and we'll pass the basket at each event to raise funds for the Revival.
NOTE: If you'd like to host an event in your home, business or other venue, please let us know and we'll be happy to add it to the list of house events.
ARTISTS & VENUES:
Important info for Aileen Morgan, David and Fatima Gimore's home performance:
There will be no parking. Guests will need to park at the Library or on Tinker and walk the last bit. Please be mindful of our neighbors. 

Guests will be asked to take their shoes off to enter the performance space.

Some cushions and pillows will be provided. Everyone will sit on the floor. If someone needs to bring a cushion, they are more than welcome.

There are a few chairs available for those in need.
Jojo and Baris Demirel will host a garden party.

This is a

private event

, by invitation only.
Jo Yanow Schwartz and Jill Olesker,

Their Stories, Our Stories

—

oral histories of Woodstock on the porch of

 

 

Historical Society of Woodstock.

 This is a public event. performance begins at 6 pm.
Pam Graboyes will host a public art show by Elaine Harper Grinnell at

6 Cedar Way, Woodstock, NY 12498

and flo art demos by Vern Becker at

50 Lower Brydcliffe Rd, Woodstock, NY 12498

.

*

NOTE* Do not enter the main residence at 50 Lower Byrdcliffe. Follow signs to "She Shed."

Elaine Harper Grinnell is a brilliant undiscovered painter and lifelong Hudson Valley resident currently living on a 142 acre farm in Jewett, NY, and Vern Becker is a retired master barber, interior decorator and painter.

This is a public event. 5:30-7:30pm
Rock Academy Show Band

hosted by Bennet Ratcliff and Jacqueline Kellachan.

This is a

private event,

by invitation only.
FEATURED PERFORMANCE
SIMON'S DREAM, Music of the Penguin Cafe Orchestra
Friday, Saturday 26th, 2019 @ 8 pm.
Reynolds and Reynolds Tap Room
104 Mill Hill Road, Woodstock
Jennifer Maidman, Annie Whitehead, and other members of the esteemed avant pop music outfit will perform compositions by the late creator of the band, Simon Jeffes. Tickets are $12 in advance and $15 at the door. Proceeds go to the artists. Tickets are available here.
SATURDAY
BRUNCH AND POOL PARTY
Saturday, July 27th
10 a.m. -12 p.m.
25 Chimney Road, Woodstock
Join us for brunch poolside at the Silver Sun Foundation in Woodstock. Tickets can be purchased here, for $35/$50/ or $100 each, all proceeds will go directly to support The Secret City's mission. Enjoy a breakfast buffet, mimosas, swimming, and mixing with The Secret City board.
SITE SPECIFIC WORK
Saturday, July 27th
12-6 pm.
Various locations
All performances are designed to take place several times between 12-6. We've tried to be as specific as possible with our timings but with the nature of site-specific work, there may be inaccuracies. NOTE: Exact times for performances still to come.
If you're interested in taking a guided tour of the work, Chris Wells will lead a tour beginning at 1 pm. Ticket for the tour are $20 and are available here.
NOTE: The Annual Woodstock Library Fair—a wonderful town tradition now in its 88th year, takes place at the Woodstock Library from 11am-5pm. We are partnering with them and a couple of our artists will be doing their thing in Library Lane, the entrance to the fair. The theme for the Library Fair is also BACK TO THE GARDEN.
ARTISTS & VENUES: A map of all performance locations can be found at the bottom of the page
Dzeli 

–

– Your Earth Body, create (y)our relationship with Nature, an interactive human sculpture performance at

Mower's Field.

Performances will start at 12:30, 2:30, and 4:30 pm.

Dakota Lane

—

Painting Paradise.

A communal garden mural, in which everyone can partake in "Painting Paradise," at

The Woodstock Library

during their library fair, from 12- 2:30 p.m. or whenever the mural is finished.
Eric Archer

displays a gallery of his reclaimed wood carved paintings while accompanying his work with live music, upstairs at the

Golden Notebook.

See more of his work

here

.
Edward Einhorn and Yvonne Roen (United Theater Company No. 61),

an intimate, seven minute solo performance for an audience of one, takes place at

Shindig

Alley

.

This piece will be performed repeatedly between 12-6 with a lunch break from 2:30-3:30. There will be a sign-up sheet just outside of Shindig Alley.
John Sturman and the Ukulele Orchestra perform on the

Village Green

, from

3-5 pm.
Riley Johndonnell's "INT- O Yellow," a communally generated mural project promoting positivity, will be installed on several walls around the

Village Green

. Look for the large yellow vinyl stickers.
Teresa Smith, Rose Oceania, and Julie Lyon Rose present,

Ancestral Composting

, a dance performance with sculpture by Mor Pipman at

Kleinert/James Gallery

. 20 minute performances, 1pm, 3pm, and 5pm.
Sound designer/maker and vagabond,

Viv Corringham

leads listening tours through the village of Woodstock.

Tours begin at

12:30, 1:30, 2:30, 3:30, and 4:30 p.m., all beginning at the

Woodstock Way

patio.

 
PICNIC
Saturday, July 27th
6:30 p.m.
Sandwiches available for purchase from Blue Mountain Bistro . Ice cream available for purchase from Nancy's Ice Cream . Troubadour Andru Bemis will be on hand to play old time American music for us.

FEATURED PERFORMANCE
Live Band Karaoke
Saturday, July 27th
Doors at 7 pm.
Show starts at 8 pm.
Colony Woodstock

22 Rock City Road
Brent Felker leads a raucous and wonderful night of karaoke with a LIVE BAND. Hudson Valley Karaoke is a beloved staple of Kingston, NY and often seen at Greenkill and BSP. We're thrilled they're bringing their show to Woodstock. Get there early to sign up. Proceeds from the door go to the band. Tickets are $15 and can be purchased here.
SUNDAY
COMMUNITY PROCESSIONAL!
Sunday, July 28th
Meet at 12 pm. at Comeau Property
Step off at 1 pm.
The community processional is a joyful walk, a colorful pageant and a ritual designed to shake up the creative spirit of the town. We will gather at the Comeau Property parking lot, where we'll be met by the Hungry March Band, from Brooklyn. We'll have banners and paper flowers and insects and butterflies and more- folks are encouraged to dress up. The colors of the day are ORANGE, PINK, GREEN, and BLUE. We'll depart at 1 pm and head down to the Village Green where we'll take a brief water break before turning up Rock City Road for Andy Lee Field.
Sunday, July 28th
2 pm.
This is it! The culmination of the whole weekend. Our signature celebration—a service combining live music, dance, community interaction, performance, community choir, dancing, storytelling and more. Join us under the tent at Andy Lee Field. The event is free with a suggested donation of $20. Free childcare and art lessons for the kids. Food trucks from The Green Palate, The Latin Garden, and  Nancy's Ice Cream will be available for refreshments.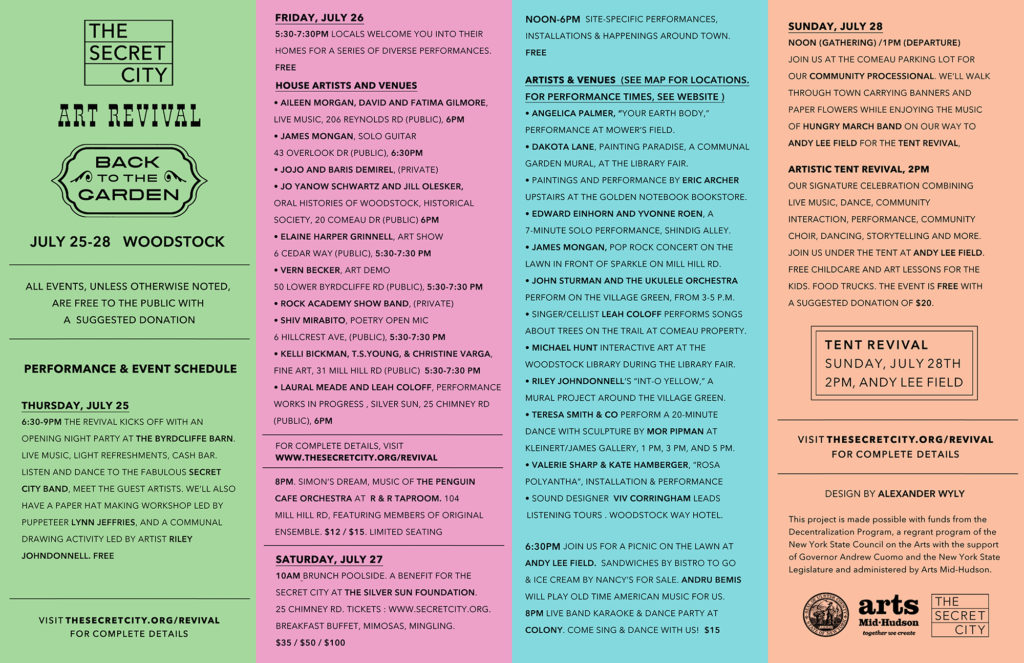 This project is made possible with funds from the Decentralization Program, a regrant program of the New York State Council on the Arts with the support of Governor Andrew M. Cuomo and the New York State Legislature and administered by Arts Mid-Hudson.
The Secret City is a registered 501c3 organization.
Thank You To Our Community Sponsors
The Secret City Art Revival Depends On Their Generosity
A Special Thanks to All of Our Community Partners