2 Paintings and a Poem
Tuesdays are Community Art Share days where I share the work of folks from our community, which is full of amazing, talented people. Today, on The Secret City Daily, I'll be sharing two paintings by Raghubir Kintisch and a poem by Caitlin Grace McDonnell. The poem first: Inspired by a bear she spotted on the autumn equinox–also her birthday–Equal Night is a meditation on our relationship with nature and time; and a strategy for dealing with obstacles and challenges. The word for today's show is RESISTANCE, so it seemed fitting. Equal Night was published on Autumn Sky Poetry Daily.
Equal Night
Caitlin Grace McDonnell
Turning toward
the second half of a century
as the world turns half dark,
and we have not yet lost,
and we're no longer young,
as our lungs learn to empty
and fill up again, we will look up
away from the small dark mirror
to the cold blue autumn sky.
The bear spotted near my cabin
on my birthday morning
was a small bear, meaning
a mother might be near.
My daughter, whose name
means home,
calls at the time
I was born, at the time
of the equinox, keeps me
on the line while she cooks
and dances, tells me
how to prepare.
If it's a brown bear,
stay still, don't turn away.
Clouds part. Cinnamon,
Zinfandel. If it's a black bear,
get big and loud. Resin,
sumac, wind chime
without the chime.
But if it's a
polar bear, fight.
Fight for your life.
What will happen next?
Her replacement—
a new precedent.
The bear is waking
from a long sleep.
Get big.
Don't turn away.
Raghubir's paintings deal with resistance, too. They come from what she calls her Pandemic Paintings–and both of them have the artist battling the world around her. The image of her recently departed dog [Milo in the Bardo], who died just before the start of the shutdown–makes me think she lost an invaluable source of strength and comfort just when she could really have used it. [NOTE: I've shared Raghubir's statement about the paintings below.]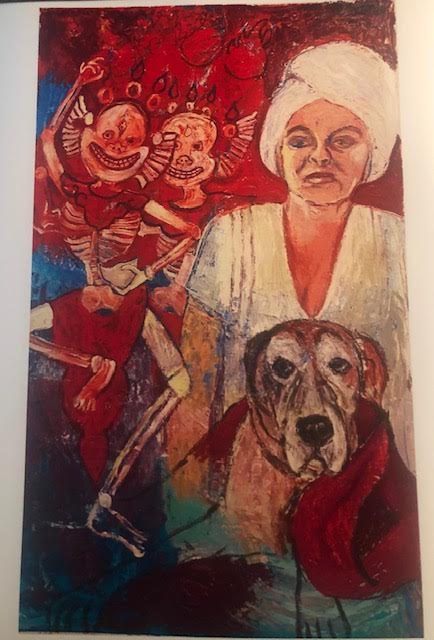 The second image [Demon Killers] shows her battling demons–so many of which have arisen for all of us during this oh-so-challenging time. Art, creativity, practice–these things have proven invaluable, too. I'm so grateful to the artists who continue to light the way.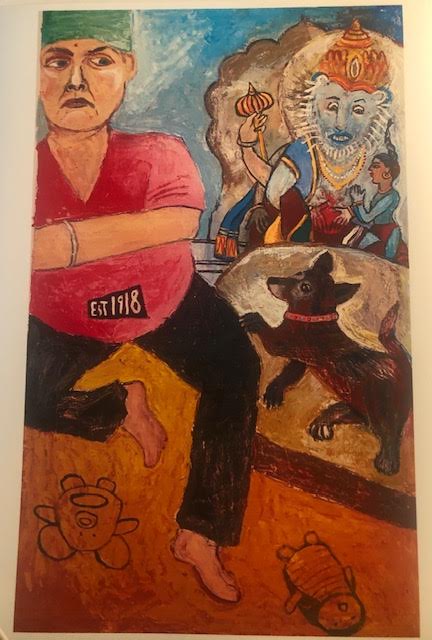 Join me weekdays on our Fb and IG pages for The Secret City Daily.
XChris
Raghubir on her paintings:
These are my Pandemic Paintings. They were both started in the height of the quarantine and I feel embody many of the inner storms I faced during this pandemic. One of these was that my big dog Milo passed just before it all began (at the end of February)…and then it all started and I hardly had time to catch my breath and then all of a sudden, it was summer. Milo and the Bardo is my working-though-grief painting because I don't feel he's completely gone and I don't feel I'm completely done with his being gone. He's hanging out in the Bardo (existence between death and rebirth) doing what he always did best which was to protect me.
The other painting, "the Demon Killers" is about navigating the cacophony of Pandemic-induced feelings and information which have muddled and are still continuing to muddle the heart and mind; in other words, my demons. Everyone I know have had more visitations than usual of their own demons. The question is HOW does one navigate such a terrain? I have my trusty pal and personal demon killer, Mitzie to get me through the day to day monsters. But I turn to the story of Narasimha, the fierce and creative lion/man incarnation of Lord Vishnu, whose mission was to destroy all evil and calamity on Earth.
Narasimha's method of destroying demonic forces was to use his creative mind, and in this case, his sharp claws. In this depiction of him, he is disemboweling King Hiranykashipu – a most demonic being who asked asked another of the great Hindu Gods, Brahma for conditional immortality; designed to outwit the Gods. Narasimha hacked his plan and killed Hiranykashipu in spite of it all.